So who is playing along this weekend with
Shimelle
at the online crop?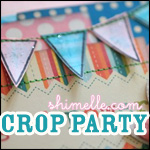 But for tonight, I have a pretty busy weekend ahead of me so I must (sadly) say I won't be able to play along much, but well, I can bring cupcakes! ;-)
I made these cupcakes for Easter and they were a-maz-ing! If you're like me and cannot resist a good s'mores related dessert you're going to want to give these a shot. You'll be making these often once you get a bite of the combination of buttery graham cracker crust combined with the fudgy goodness of chocolate chunks swirled into airy cake and then topped off with a light and delicious marshmallow frosting.
Yum!
Want to try? You won't regret it!
S'mores Cupcakes
Graham cracker crust:
1.5 cups graham cracker crumbs
3 tbsp butter
Cake:
shhhh...I cheated and used Betty Crocker Devil's Food mix! (and yes, I have come to the conclusion that once in awhile it is okay to do this)
1/2 bag Hershey's chocolate chunks
Frosting:
16 oz powdered sugar
1/2 cup butter, softened
3 tablespoons milk
2 teaspoons vanilla
1 cup marshmallow topping
Topping:
2 Hershey Chocolate Bar
2 Graham Cracker sheets
Directions:
1. Melt butter and mix with graham cracker crumbs, press about 1/4 inch of mixture into bottom of cupcake liners
2. Prepare cake mix according to package directions, add chocolate chunk, mix well and then add 1/4 on top of graham cracker crust in cupcake liners
3. Bake according to cake directions
4. Prepare icing by mixing all ingredients with an electric beater until light and fluffy
5. When cakes have cooled completely, ice with frosting
6. Top each iced cupcake with 1 Hershey rectangle and crumbled graham cracker
7. ENJOY!
8. Have s'more later (hehe...couldn't resist ;-) )